designer Mary Vinson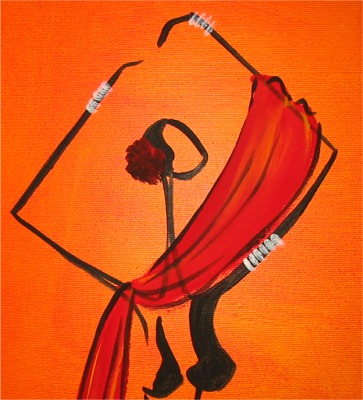 Let me tell you something," says Mary Vinson as we board the dinghy. "This cay doesn't play."
We are headed for a deserted strip of beach on the tiny island she shares with her husband, record producer and resort owner Chris Blackwell. Vinson is an apparel and home-furnishings designer; Blackwell is the man who first recorded Bob Marley and who, since the mid-1960's, has been a fervent promoter of world music. Although the island is just a short boat ride from mainland Nassau in the Bahamas, the waves are pummeling and the sun is brutal.
In the living quarters--a loose cluster of octagonal huts on stilts--lounge chairs and other items are forever being carried out to sea. "You can leave here with place settings for 24," Vinson says, "but when you come back, if someone didn't get to them before the wind started, well, that's the end of that. You learn not to get upset over the things you lose."
Fortunately, Vinson has ready access to place settings. Royal Hut, her store on the Upper East Side in New York City, supplies the couple (and many of the resorts they own) with bath and beach towels, bed linens, straw place mats bordered in colorful batiks, delicately woven rattan chairs from Zimbabwe and other items that reflect their love of travel and the island life.
The getaway is surprisingly modest for a couple who can afford to live anywhere--and in any way--they choose. It echoes the relaxed style of many of their resorts, which include Golden Eye and Strawberry Hill in Jamaica and Compass Point in Nassau. The most distinctive feature is color: vibrant orange, yellow and blue outside; more subdued, relaxed shades indoors. It's really about the quiet and the view, not about living in overly decorated luxury.
Vinson met her husband through the singer Grace Jones almost 20 years ago. The women had a decorator in common and had heard about each other for years, so Jones asked Vinson if she wanted to come to Blackwell's home in Nassau during one of her visits. Vinson and Blackwell began dating a short time later, and to this day they are endearingly attentive toward each other. Vinson frets when Blackwell ventures too close to the roiling waters beyond the coral reef, and Blackwell is constantly reminding her to drink enough water during the most punishing hours of Caribbean heat.
The couple bought the island in 1983, when it was called Long Cay. Blackwell had often passed it on his way to town and thought it might make a good investment property, perhaps even accommodate a restaurant where boaters could stop for a meal and some drinks. "At one time we had chickens all over the island," he says. "But I didn't want to call it Chicken Cay," so it became Rooster Cay.
The first huts went up in 1993, and Vinson says she was very happy to settle there. In a hard-to-place accent that doesn't betray her Virginia origins, Vinson explains, "We were living in this big house on the mainland and I thought, What do I want with a big old house and all that aggravation?"
They chose not to equip the house with faxes and computers, so Blackwell doesn't get much work done on Rooster Cay. Vinson, on the other hand, is just the opposite. "They have their own lifestyle," she says of her husband and his rock-star clients, "and I have mine. Mine is really kind of calm. It's very easy to design here. I come with my swatch books and some drawing paper. It frees up my mind."
Both Vinson and Blackwell are travelers. "I really believed that travel was the best education," says Vinson, explaining why she left Parson's School of Design in New York to tour the African continent a year short of graduation. Blackwell, whose success in promoting world music is largely due to his international view, comes to Rooster Cay for a shift in perspective.
"If you're right in the middle of something, it can seem like it's the center of the universe, the most important thing," he says. "Then you leave it and suddenly it doesn't seem so important anymore."
What Rooster Cay offers both of them is clarity. Everything serves a purpose, and attention is paid to details that really matter. To combat the dampness that can permeate the sheets, for example, Vinson uses bedspreads of her own design that are made of Zimbabwean fabric backed with absorbent terry cloth, and she keeps the beds warm and dry with electric blankets that are turned off just before they turn in.
"I think if I keep putting more things in the house, then I won't like it; that's not what island life is about," Vinson says. "As long as the bed is not wet and the water is working, I'm fine."